What are AI-enabled HMIs?
AI-enabled human-machine interfaces (HMI) are systems that involve interactions between the technical system of a machine and an operator in a context and across various channels:
– the machine is itself a hierarchy of interconnected systems capable of real-time data acquisition, data processing, artificial intelligence, and models;
– the operator has intra-individual and inter-individual specificities and performances, including the mobilization of cognitive and training abilities for a given task;
– the channels include, but are not limited to: vision and imaging, voice and sound, touch and haptics, 2D-3D immersion, and a possible development of (direct) brain-to-machine interactions. They involve both directional machine-to-man and man-to-machine exchanges. They aim at providing information, at setting up decisions, at acting and checking the consequences of the action for the best recovery, both on the human side and on the machine side.
Academic research on AI-enabled HMI design is a valuable innovation signal
AI-enabled HMI design is an active academic field with implications for future consumer and industrial trends
AI-enabled HMI is currently a hot consumer and industrial trend, but it is also an active academic field. Research activity provides forward-looking information regarding consumer and industrial trends.
Intuitive and natural user interface development from keyboard to brain-computer interface have long been improved in the field of HMI. There is no specific definition of Natural User Interface (NUI), but it is commonly understood as a system for human-computer interaction that the user operates through intuitive actions related to everyday human behaviors. NUI is a necessary condition but a not sufficient condition for HMI with artificial intelligence. Therefore, researchers in academia have been trying to perceive the changes artificial intelligence brings into interface design and figure out how these changes can be implemented.
Conference workshops reveal the prevalence of research targets
The list of workshops from major conferences about interface design is a good indication of design trends and research consideration of AI-enabled HMI. A close look at the statistical distribution of research targets in the workshops reveals that researchers focus on machines where AI is applied to rather than AI itself.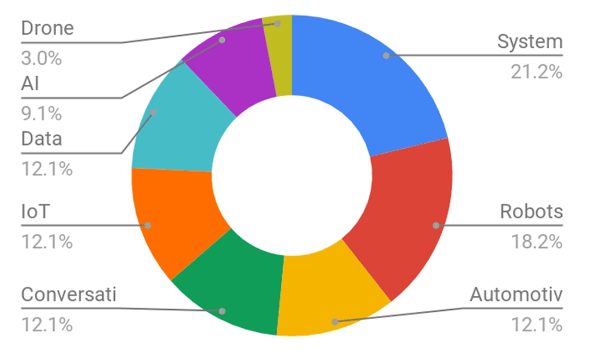 Source: Presans
Conference workshops can reveal the prevalence of research topics
The topics of those workshops are widely distributed but mostly focused on a human perspective. The topics of the workshops indicate that researchers care how people perceive and interpret an AI-enabled machine's intent and how they act toward the machine. That is to say, AI-enabled HMI needs to be studied in the perspective of humans' information processing such as perception-cognition- action.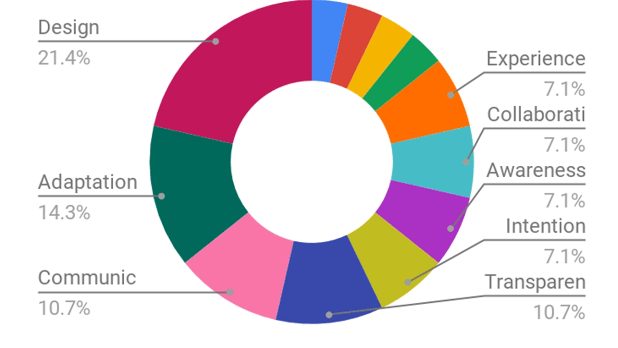 Source: Presans
Breakthrough innovators may need to integrate forward-looking information on AI-enabled HMI
Presans can help industrial innovators in various sectors quickly gain an overview on academic trends in AI-enabled HMI design.