This article is the fourth of the series about Innovation Waves, after Innovation Waves Associated With Invention and Discovery, Time Sequence for Innovation Waves and Their Applications : the GPS Example, and How Kodak Missed The Turn….
When an invention or discovery is born, only very few experts, researchers specialized in the specific topic, can understand it and foresee its full potential and limits. If the concept is indeed fruitful, other laboratories will try to reproduce the results and will distribute the knowledge further within a small international community of experts.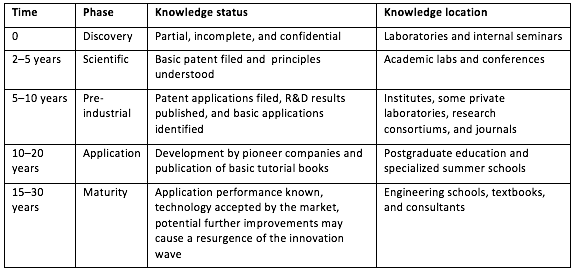 This process of knowledge distribution is summarized in the table. In the early phases, the knowledge associated with the invention or discovery is not widespread, and it is generally missing within the companies whose business models may be affected. However, even during these early phases, companies do require sufficient knowledge to evaluate the potential of an invention or discovery. One way or another, they must gain access to this knowledge in order to outline their R&D plans. Because innovation often requires the incorporation of a new ingredient from outside the company, this early learning process is of paramount importance.
The acquisition of even deeper knowledge is necessary when the innovation wave finally strikes the industry. At that point, far more knowledge sources are typically available, but the knowledge-acquisition effort may still be challenging and costly. In addition, the number of options for knowledge acquisition may lead to difficult decisions: finding the least risky trajectory is especially challenging in the heat of a competitive atmosphere. Seeking assistance from external players who are already experts in the knowledge area is often a wise approach.
***
This article was initially published in the book Innovation Intelligence (2015). It is the fourth section of the third chapter.
Calls for Expertise & Innovation Contests
Inject on-demand expertise into industrial innovation projects to accelerate decision making and overcome technical and scientific obstacles