Knowledge is at the source of the rationale for the key decisions that shape and drive an innovation project. Relevant knowledge can come from a wide variety of sources. Winners at the innovation game are the best at rapidly seeking, filtering, digesting, and interpreting the appropriate knowledge.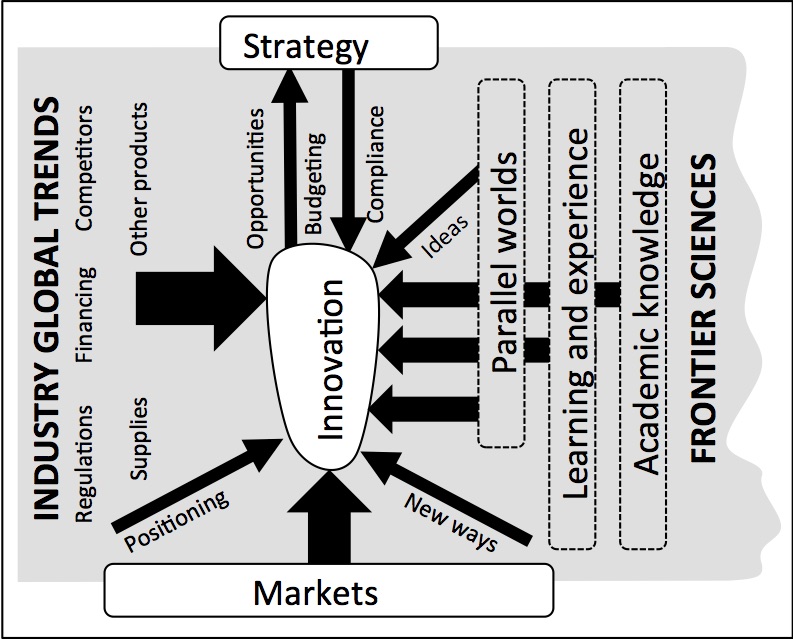 Relevant knowledge comes first from within the company contemplating the new endeavor. Although it may be considered obvious, we take this opportunity to stress the importance of the internal knowledge transfer shown as the upper vertical arrows in the figure. Above all, the innovation drive must be consistent with the company's strategy. This requirement is not as easy to satisfy as you may think. In real life, company strategies are often vague, wishful, and written mainly as tool for communicating with shareholders. Moreover, innovative ideas are conceived by creative minds whose ideas are the results of a combination of dreams and possibilities; it is rare when such ideas fit nicely into the company's stated strategy. Such new concepts should be considered opportunities by those who shape the company's strategy, but the adaptation to take advantage of those opportunities requires a reliable flow of information between the company's headquarters and its innovation warriors. Any flaw or delay in this exchange may jeopardize the innovation, in particular when the project has grown sufficiently large to be visible.
Another key knowledge stream within a company relates to the potential product's market (the lower vertical arrow). A successful company has a strong knowledge base with regard to its existing markets. This source of information is of paramount importance in both shaping and guiding any innovation project. That internal knowledge may be insufficient, as when the potential of the new concept is expected to lie outside the company's usual customer base or outside its existing business model. A common threat to reliable flow of such internal knowledge is poor communication between the sales and marketing and research and development departments.
Both vertical flows of knowledge within the company are important. In the remainder of this book, however, we will focus primarily on access to lateral knowledge, or knowledge from outside the company. However, you should keep in mind that the digestion and integration of knowledge from the various areas within the company is a priority and thus should not be omitted when considering a long-distance knowledge quest. As we all appreciate the strategic importance of innovation in today's modern economy, this point is more important than ever.
This article was initially published in the book Innovation Intelligence (2015). It is the second section of the second chapter.
From decision to action
The Conciergerie helps you engage on demand top level experts for industrial innovation