In just a few decades, advanced knowledge has become a commodity. For innovative companies it is safer, cheaper and most importantly much faster to assemble external bricks (knowledge, technologies or talents) to put superior products on the market. Beyond the hype, Open Innovation is a reality. In this article we tell the story of how Parrot, French leader in handfree car kits became leader on the market of drones in just a few years.
This article is derived from one of the numerous case studies published in the book : Innovation Intelligence. The case studies are based on interviews, among others with Parrot CEO and Founder Henri Seydoux.
It must fly!
Our Wi-Fi remote-control car must fly! Henri Seydoux had his epiphany as he walked along the Canal Saint-Martin in Paris. The idea he had in that moment would become one of his most difficult, as well as most exciting challenges as an entrepreneur. Back in 2007,  Parrot had already been working for three years on a Wi-Fi remote-control car project, in order to diversify Parrot's business. The product was ready for production… but it was not fun enough. Henri was about to cancel the project when he got the idea to turn the car into a drone.
In a normal company, the remote-control car project would have been killed. But Parrot was not a normal company. And Henri Seydoux was not a normal CEO. A bit like Steve Jobs, Henri is an atypical, self-taught, visionary entrepreneur. Henri defines himself as a a bookworm (un rat de bibliothèque), because everything he knows he learned on his own. The self-taught aspect of Henri is very important: searching for missing pieces of knowledge is hard-coded into his DNA. It is part of his culture. It has become part of Parrot's culture. Passionate about philosophy, Henri himself is a sort of modern  Enlightenment Philosopher. He knows how to search for knowledge in the global encyclopedia. Passionate about open-source software, he knows how to rapidly assemble the best technologies and the best talents to be the first to market with superior, innovative products.
The challenges of the drone project were numerous and Henri knew that he would not be able to do everything by himself. Many of the required pieces of knowledge were not available in-house: aeronautics, mechanics, cameras, and control algorithms. What would be outsourced? Who could help? How would Parrot find the missing bits of knowledge? What value would Parrot add? To bring in the required knowledge and skills, every type of arrangement would be allowed: hiring, consulting, codevelopment, and so forth.
Henri had to hunt down an expert outside of the company. While Pascal Zunino was an engineering student at the Grenoble Institute of Technology (INPG), he had already been designing and building his own drones in his garage for five years. Winning the prestigious ONERA/DGA innovation contest prize gave Pascal a lot of press coverage, thanks to which Henri Seydoux found him. That was the beginning of a collaboration that would last for three years. The collaboration would save Parrot precious time—probably several years.
In early 2007 Parrot assembled the new team, the Commando team, that would be in charge of making the car fly. The young Pascal Zunino joined the Commando team as an external consultant. Pascal helped Parrot to develop various key aspects of Parrot's drone: propeller design, control system and stabilization algorithms, ultrasound telemeter, benchmarks, noise reduction, and testing procedures. While Parrot focused mainly on video, Pascal focused on flight. The relationship worked very well.  The Commando team was like a small startup within Parrot. The main rules were secrecy and efficiency.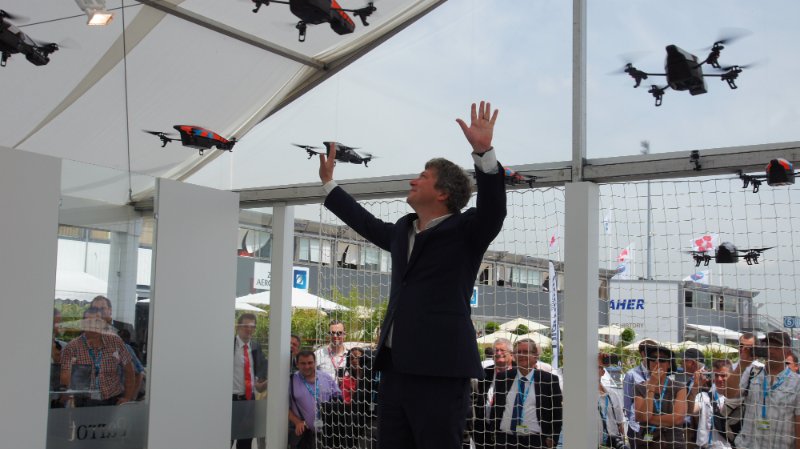 The AR.Drone was officially launched at the 2010 Consumer Electronics Show (CES) in Las Vegas – 3 years after the "it must fly" epiphany. The AR.Drone was the star of the 2010 CES. It was the first Wi-Fi augmented reality quadricopter drone. The drone was loaded with sensors and video cameras. It had debuted just in time to surf the wave of the famous, miniature, remote-control helicopter PicooZ. In fact, Parrot was not just catching the wave but was extending it. The AR.Drone would hit the market just a few months later, with a global launch beginning in August 2010, starting in Hong Kong and France before spreading to the rest of the world. This initial product was a major success: 120,000 AR.Drones would be sold by the end of the year.
Although Parrot's drone project should have been killed on various occasions based on "good" innovation-management practices, it survived. Seven years after the beginning of the drone project, four years after the launch of the AR.Drone, Parrot has realized two additional generations of the drone and has acquired other drone companies for expanding the drone's professional applications. Of Parrot's revenues today, 50% are generated by drone sales.
Parrot successfully achieved diversification with short time to market. This achievement was made possible by Parrot assembling the necessary puzzle pieces, most of them coming from outside the company. The success has much to do with Henri Seydoux's background: not being an engineer, he has the attitude in his DNA to search outside for information and to ask the right questions rather than trying to solve problems by himself.
Albert Meige, CEO & Enchanteur, Presans.
***
*
This article is extracted from one of the numerous case studies published in the book : Innovation Intelligence. Commoditization. Digitalization. Acceleration. Major Pressure on Innovation Drivers.
In this book, the authors provide an up-to-date overview of recent, disruptive trends that induce changes in the way large companies deal with innovation. Special attention is given to the impact of the digital wave. The book was written after approximately 40 interviews with the Chief Technology Officers and Chief Innovation Officers of large international companies such as Airbus Group, Danone, TOTAL, and Faurecia, among others.
From decision to action
The Conciergerie helps you engage on demand top level experts for industrial innovation